A garden is a beautiful reflection of the splendor and allure of Mother Nature. The vibrant greens and colorful flowers come together to create a picturesque scene. The Teleflora's Stratford Gardens bouquet captures this natural beauty in a miniature form with a combination of lavender cushion spray[...]
Add To Cart
Add 8 Balloons for $42.95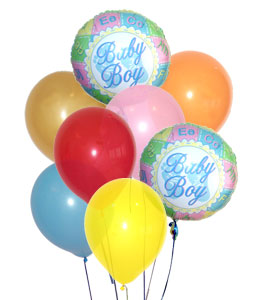 A garden is a beautiful reflection of the splendor and allure of Mother Nature. The vibrant greens and colorful flowers come together to create a picturesque scene. The Teleflora's Stratford Gardens bouquet captures this natural beauty in a miniature form with a combination of lavender cushion spray[...]
A garden is a beautiful reflection of the splendor and allure of Mother Nature. The vibrant greens and colorful flowers come together to create a picturesque scene. The Teleflora's Stratford Gardens bouquet captures this natural beauty in a miniature form with a combination of lavender cushion spray[...]
A garden is a beautiful reflection of the splendor and allure of Mother Nature. The vibrant greens and colorful flowers come together to create a picturesque scene. The Teleflora's Stratford Gardens bouquet captures this natural beauty in a miniature form with a combination of lavender cushion spray chrysanthemums, pink spray roses, hot pink miniature carnations, peach roses, and wax flower.

This bouquet is ideal for expressing a wide range of emotions, from happiness and joy to sadness and worry. It's perfect for various occasions such as birthdays, anniversaries, get-well-soon gestures, or expressions of love. The peach rose symbolizes deep gratitude and appreciation towards someone who is an important part of your life. On the other hand, wax flowers express good wishes, everlasting success, wealth, lasting love, and patience.

Chrysanthemums are delicate and beautiful flowers that carry significant meaning and value, representing joy and loveliness. The lavender chrysanthemum signifies a merry wish for wellness, making it a suitable get-well-soon flower. In contrast, the pink carnation symbolizes a mother's never-ending love and is now associated with a woman's love.

To make the bouquet even more striking, our local florist will add seeded eucalyptus, bupleurum, and oregonia. Order your miniature garden with us and enjoy same-day delivery if you wish!

Item No. T09J400A
Price: $69.95