Starting a new journey calls for a unique celebration. Whether it's moving into a new home, landing a job, welcoming a new baby, or any other significant event, flowers are an essential part of the festivities. However, with so many flower options available, it can be overwhelming to select the perf[...]
Add To Cart
Add 8 Balloons for $42.95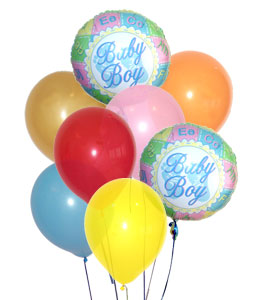 Starting a new journey calls for a unique celebration. Whether it's moving into a new home, landing a job, welcoming a new baby, or any other significant event, flowers are an essential part of the festivities. However, with so many flower options available, it can be overwhelming to select the perf[...]
Starting a new journey calls for a unique celebration. Whether it's moving into a new home, landing a job, welcoming a new baby, or any other significant event, flowers are an essential part of the festivities. However, with so many flower options available, it can be overwhelming to select the perf[...]
Starting a new journey calls for a unique celebration. Whether it's moving into a new home, landing a job, welcoming a new baby, or any other significant event, flowers are an essential part of the festivities. However, with so many flower options available, it can be overwhelming to select the perfect arrangement for each occasion. Thankfully, Teleflora's The Sweet Beginnings Bouquet eliminates the stress of finding and arranging flowers every time.

The Sweet Beginnings Bouquet is a stunning spring flower arrangement that will brighten up the recipient's day and add warmth to their special occasion. The arrangement's base features white hydrangea blooms, providing a beautiful backdrop for the pink gerbera daisies, hot pink roses, and pink Peruvian lilies that stand out against the gorgeous white background. The bouquet is finished with seeded eucalyptus and comes in a hot pink cylindrical vase that adds a pop of color to any setting.

Whether it's a housewarming party, birthday celebration, new job, birth of a child, or a special anniversary, this stunning bouquet will add elegance to the occasion. If you're struggling to find the perfect gift for someone's special day, you can never go wrong with The Sweet Beginnings Bouquet.

Ordering this flower arrangement is simple. You can place your order through our website, and our local florists in Canada and the US will deliver it to the recipient's doorstep. You can also choose same-day delivery, and we guarantee that our flower arrangements are made using fresh flowers on the day of delivery to ensure maximum freshness and fragrance.

Make someone's special day unforgettable with your loving gesture by ordering The Sweet Beginnings Bouquet today.
Item No. B22-5150
Price: $79.95