Have you ever struggled to find the right words to express your true sentiments to your loved ones? Saying warm wishes or wish you all the best just doesn't seem to cut it, does it? It can be challenging to find the perfect way to convey your feelings, but luckily, there are other ways to show your [...]
Add To Cart
Add 8 Balloons for $42.95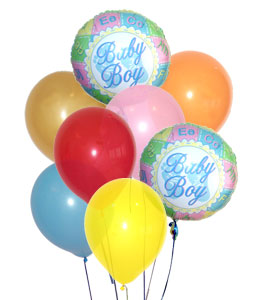 Have you ever struggled to find the right words to express your true sentiments to your loved ones? Saying warm wishes or wish you all the best just doesn't seem to cut it, does it? It can be challenging to find the perfect way to convey your feelings, but luckily, there are other ways to show your [...]
Have you ever struggled to find the right words to express your true sentiments to your loved ones? Saying warm wishes or wish you all the best just doesn't seem to cut it, does it? It can be challenging to find the perfect way to convey your feelings, but luckily, there are other ways to show your [...]
Have you ever struggled to find the right words to express your true sentiments to your loved ones? Saying warm wishes or wish you all the best just doesn't seem to cut it, does it? It can be challenging to find the perfect way to convey your feelings, but luckily, there are other ways to show your loved ones how much you care.



Special occasions call for special gifts, and flowers are always a great option. They can brighten up anyone's day and bring joy to their heart. The Wondrous Wishes Bouquet by Teleflora is the perfect gift when words just aren't enough. This vibrant bouquet features a mix of flowers that are sure to impress.



The bouquet includes blue hydrangea, orange roses, pink lilies, gerberas, and alstroemeria, as well as purple chrysanthemums. The arrangement is placed in a delicate yet stylish transparent glass vase. It is a beautiful sight to behold and is sure to bring a smile to the recipient's face.



The pink alstroemeria and lilies, which are the centerpiece of this collection, symbolize friendship and devotion. They represent the cherished bond between you and your loved one. Roses are a timeless representation of love, while orange roses add vibrancy and enthusiasm to the mix. Purple chrysanthemums add elegance and style while expressing optimism and wishing good luck to your loved ones. The bold blue hydrangea adds a touch of courage and encourages the recipient to be brave in everything they do.



The Wondrous Wishes Bouquet by Teleflora is perfect for any occasion, whether you're celebrating a birthday, graduation, anniversary, or simply want to express warm wishes. It is a thoughtful way to convey your regards and show your loved ones how much you care. Our local florists in Canada and the United States can book your bouquet in advance or prepare a fresh arrangement for same-day delivery.



Don't let the struggle of finding the right words hold you back from expressing your true sentiments. Let the Wondrous Wishes Bouquet by Teleflora do the talking for you. It is a gift that's sure to impress and bring joy to your loved one's heart. Order now and make someone's day a little brighter!
Item No. T11-1A
Price: $94.95